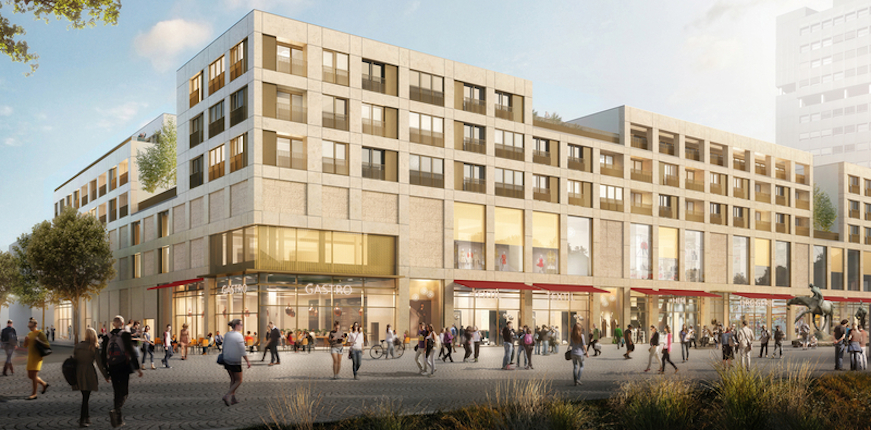 BV Postareal Lörrach
The residential and commercial building "Lö" is currently being built in a prominent location in the city center. The future residential and commercial building on the post area will contain two levels for sales and catering and three levels for living.
On the ground and first floors there are commercial and catering areas that can be accessed from the pedestrian zone. The inviting character of the generous shop window areas creates a link between the building and the outside space and enlivens the area in front of the main train station. From the third floor, 59 residential units are planned, which are to be managed by the Städtische Wohnbaugesellschaft Lörrach mbH. The apartments are offered exclusively for rent, the apartment sizes vary from 1-room apartments to small townhouses with five rooms and garden area. The residential units are located above the commercial area and are accessed via a roof garden, a communication point for the residents with a play area and private gardens. The apartments are oriented towards the quiet green area and thus create a place to stay in the lively city center.
Project start for Electro: Jun 2020
Planned completion: Jan 2021

Project description
Electrical installation for:
Power installations:
distributions,
power cables,
emergency lighting,
routes, channels, floor tanks,
main and control cables,
installation equipment,
equipotential bonding,
interior lighting,
exterior lighting
Low power installation:
fire alarm system,
cabling weak current,
antenna system,
EDV / TK network,
ELA system